Cosmic Comedy Club Berlin: Open Mic
August 3 @ 7:00 pm

-

11:00 pm

CEST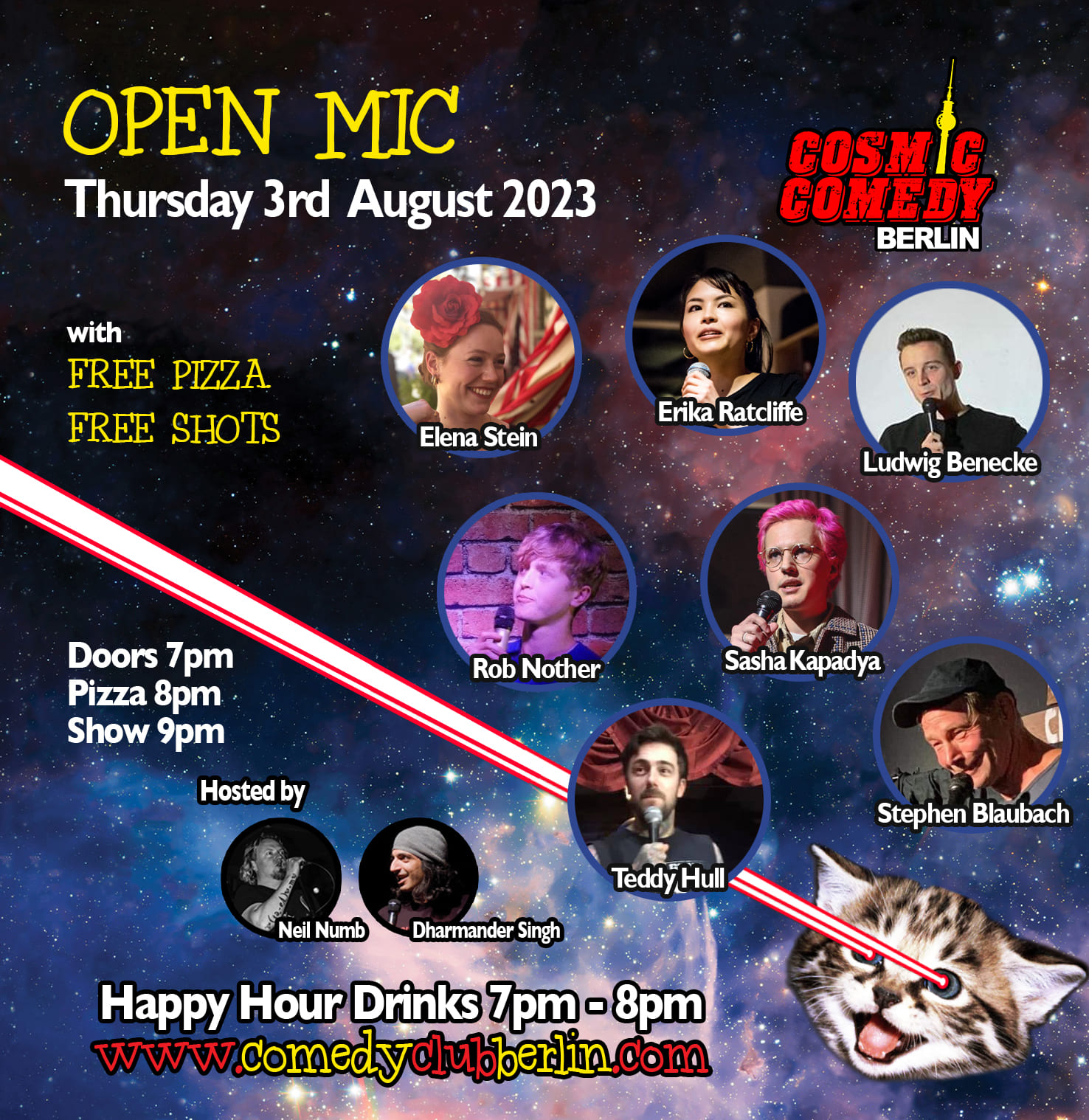 Cosmic Comedy Club Berlin: Open Mic
Thursday 3rd August 2023
This show is in English.
Join us for Cosmic Comedy Club Berlin at our brand new venue and as always every show with Free Vegan and Vegetarian Pizza & Shots
Hosted by:
Dharmander Singh (UK) & Neil Numb (SCOT)
★★★★★ THE ACTS ★★★★★
Thank you to all the sign ups. Our August 3rd Cosmic Comedy Berlin bringers of the gooooood tiiiimes will be Erika Ratcliffe, Sasha Kapadya, Ludwig Benecke , Rob Nother, Elena Stein, Stephen Blaubach and Teddy Hull. Hosted by Dharmander Singh and Neil Numb Comedy.
★★★★★ OPENING TIMES ★★★★★
Pre-Drinks : 7pm – 9pm
Pizza: 8.00pm
Main Show : 9pm – 11pm
2for1 on selected drinks 7pm – 8pm
★★★★★ HOT SAUCE ★★★★★
We are the only comedy club in the world that has a hot sauce shop, get your hands on some of the best hot sauces in Europe and beyond. https://bit.ly/cosmichotsauce
★★★★★ TICKETS ★★★★★
The tickets price includes 7% VAT
https://comedyclubberlin.com/events/
★★★★★ THE VENUE ★★★★★
Kookaburra Comedy Club
Schönhauser Allee 184, 10119 Berlin
https://bit.ly/3vOs1hH
★★★★★ COMMUNITY ★★★★★
Please join our Comedy Telegram group to communicate with other nice people going to comedy events in Berlin: http://bit.ly/berlinsocialchat